18 August 2018

GR4CF Fundraiser

TOM's LA HQ

5404 Jandy Pl., Los Angeles, CA

20 May 2017 – 13 August 2017

Triton Museum of Art

1505 Warburton Ave., Santa Clara CA

21 September 2017 – 24 September 2017
2nd International Integrated Art Exhibition
Wuhan, China



Language


---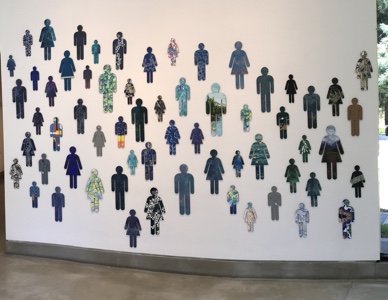 HOMO IDENTUS explores the relationship between community and disability and the formation of identity as a response to hegemony.
Who are you?
How do you fit into the world around you?
Why do you think you fit in the ways that you do, or don't?
Says who?
And under what authority?
The art installation, comprised of over 300 individual works, opens the conversation by representing the community in which artist Ketra Oberlander resides and creates. Her representations of friends, family, colleagues, neighbors and acquaintances fill the gallery space and surround "The Disabled": flat gray representations of the afflictions from which she and her community suffer.
Whether one sees the suffering or the abundance of creation, HOMO IDENTUS provides an environment for approaching a deeper examination of how we each contribute to the community in which we live.
Artist Ketra Oberlander began painting at 40 after losing her sight to cone dystrophy, a rare genetic disorder.

Internationally recognized for her artistic vision, her work graces:

Corporate and private collections

Feature films Side Effects, Broken City and Dead Man Down

TV shows Extreme Makeover: Home Edition, Body of Proof and Person of Interest

The New York Times, Bloomberg BusinessWeek, the Huffington Post, San Jose Mercury News, WLIU, KGO News, DECOR Magazine, MORE Magazine and dozens of quilt trade press and consumer publications have introduced Ketra's work to a broad audience.